I always dreamed of one day getting a professional interior designer to decorate our house, but I know this can cost thousands of dollars! I thought this was something maybe I'd get to do way later down the road, like maybe when my kids are grown and we're empty-nesters. Fortunately, online design services have been gaining in popularity recently! These home design services are super affordable and fast. In this Spacejoy review, I will be sharing details on my personal experience with the online home design service to help answer any questions you might be wondering while considering using Spacejoy for your own virtual home design.
Spacejoy vs. Modsy vs. Havenly: Pricing
When it came down to it, I chose Spacejoy for the price. I figured for the price it really didn't hurt to try it out.
Spacejoy Cheapest Package: $69, includes two revisions
Havenly Cheapest Package: $79, includes two weeks of post-design support
Modsy Cheapest Package: $159, includes unlimited revisions
I think Spacejoy has the cheapest prices mostly because they are trying to gain traction in the space. I don't think they are as popular as Modsy and Havenly yet. I happily took advantage of this and accepted the risk of working with a newer platform.
I only paid $34.29 for my living room design and $69.30 for my nursery design because I used a coupon code. You can use this link to get 25% off your design package. Use the Spacejoy coupon code MELI25 at checkout.
For the nursery design, I chose the slightly upgraded Bliss package, which includes two design concepts and also window treatments. I needed new curtains in the nursery (see mismatched ones in photo below), so the Bliss package definitely made sense for that one.
The Spacejoy Process
Initial Questionnaire
After purchasing my packages, I filled out their design questionnaire right away. This is key to getting your designs started immediately. They ask questions around what you want the space to be used for, what pieces you need, who uses the space, etc. I didn't find the questionnaire to be too long or annoying. You can fill it out in 15 minutes if you don't have too many specifics, but it could take up to 30 minutes if you want to share specific products and style ideas.
Provide pictures of your current space
You will have to provide pictures of the space from different angles (one of each of the four walls and then one from each of the four corners, so eight total), so be sure to have these handy. I made the mistake of thinking I could go back and add these later, but the tool doesn't really have a "draft mode" and your first submission is really the final one. Spacejoy customer service was great and helped re-open my form. They responded within just a couple of hours on a Saturday. The great customer service I received in the beginning really gave me confidence that the rest of the process was going to go smoothly.
Share your personal style
If you have a really specific style you are going for, it's best if you have some publicly-viewable Houzz or Pinterest boards that showcase what you like. There is a field in the questionnaire for you to share these boards. Spacejoy doesn't really ask you many style-related questions (unlike Havenly, which asks you to choose styles you like among a gallery of 30 or so pictures), so be sure to share some reference pictures.
Provide details on furniture or other items you plan on keeping
Spacejoy will ask you to provide pictures and a product link or dimensions of furniture and other items you plan on keeping in your room. This was only slightly annoying because I had to go back and search for links of products, but in the end it was a worthwhile exercise because it ensures that the designs account for correct dimensions of existing furniture.
Receive Your Designs and Provide Feedback
You will first receive your designs in their 3D app. This gives you a rough idea of what the design is going to look like, but the rendered designs will look much clearer and realistic.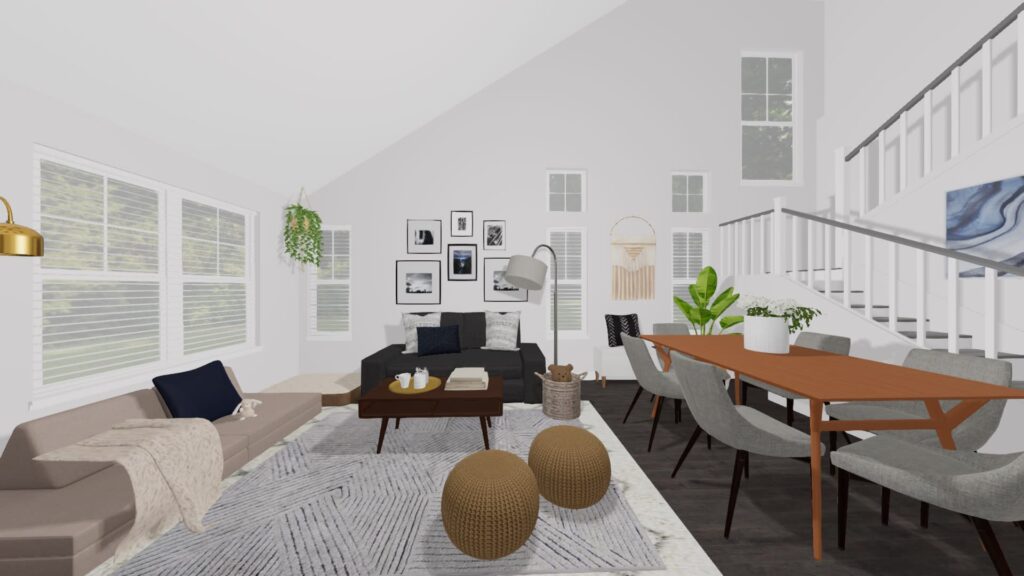 Once you receive your designs, you can provide feedback on what you would like to change. The designers are pretty good about finding substitute products if you don't like something. I talk more about the revision process in the Pros and Cons section below. Once you have mostly settled on your design, the designer will create photo-realistic renderings. You can still ask for minor revisions at this point.
Purchase Products
Once you've finalized your design, you will get links to all the products featured in your designs. You can purchase them on your own, but there are benefits to purchasing through Spacejoy as well (see more info below). There are also some downsides to consider though, such as the returns process. If you end up not liking something you buy from a retailer through Spacejoy, I am imagine the process will be a little more complicated than you doing a direct return. Also, though Spacejoy does guarantee the lowest prices, I don't know if this applies to coupon prices as well. I used a 15% off coupon for my Crate and Barrel purchase. I didn't check whether Spacejoy would have matched the 15% off price as well. In any case, I didn't want to go through Spacejoy because I wasn't 100% sure I was going to keep the curtains I bought from Crate and Barrel and I didn't want to have to deal with the middle man in case I decided to return.
How long does the Spacejoy interior design process take?
Here is what my timeline was like:
May 24: Purchased packages for living room and nursery, submitted questionnaire
May 25: Initial feedback from Spacejoy about my questionnaire (I had missed adding product links/dimensions for existing nursery furniture)
May 26: Designer assigned and got email saying designs have started
June 4: Project update that my designs are being put into the 3D app
June 5: Update that my designs are running behind schedule
June 6: Received update that my 3D designs were being rendered
June 11: Initial 3D draft designs for my living room are ready (only 2.5 weeks from process start!)
June 21: Living room revision is ready based on my feedback
June 21: Initial designs for my nursery are ready
June 23: Final living room design is released (roughly 4.5 weeks from process start)
June 30: Final nursery room design is released (5 weeks from process start)
Overall, it took about 2.5 weeks to see my initial draft designs and then about 4.5 weeks to get my final designs.
Pros vs. Cons of Spacejoy
Pros
Super affordable, especially with their promos
Fast turnaround time. Only having to wait a couple of weeks to see an initial draft is a huge plus!
You are constantly updated on the progress of your projects. I was informed when my design was going to be delayed. This really helped me not constantly wonder when I would get my designs.
The designer listens to your feedback. If you don't like something, they will find something else that you like instead, but more on this in the cons section below (I found that the designer will just give you what they want, maybe even if it's not a better design choice).
They really incorporate every little detail you indicate on your questionnaire. For example, there is a section in the questionnaire that asks if you want to personalize the space for your pet. I mentioned that a little spot for a dog bed would be nice to see in my living room design and sure enough they made sure there was a little corner with a dog bed. They also ask if you would like to personalize your space and if so, to upload any relevant pictures. I asked for a gallery wall and provided some family pictures that they then incorporated into the design.
They will tailor the products to suit your budget. For my living room I stated that I wanted to stay on a tighter budget and the designer chose items from stores like IKEA and Target. For my nursery design, I said I was willing to spend a little bit more, so my design featured products from stores like Crate and Barrel and Anthropologie.
No pressure to purchase products. I was pretty surprised no one really reached out to me to follow up on purchasing any products once I finalized my design. It was also nice that you don't have to wait until you've finalized designs to see links to the products selected, so you could already start doing some shopping and budgeting.
They will price match products featured in your design! They guarantee that the prices they offer are the lowest you'll find. You can also get discounts based on how much your purchase through them.
Cons
No mobile or iPad app. At the time of writing this post, there is no currently usable smartphone or tablet app that you can use to see your designs, though you can always use the web version on your phone or tablet. I did try to download the mobile and iPad apps, but couldn't sign in! Apparently there is some critical bug that prevents signing in, which basically renders the app useless. I reached out to Spacejoy customer support about this and was told the apps are currently unavailable. This wasn't a huge deal-breaker for me, but it does somewhat taint my perception of the quality of the brand. I would have rather they not make their apps available in the App Store at all if they aren't going to work so that I (and apparently others based on their app reviews) didn't have to waste my time trying to figure out why I couldn't sign in.
No real interaction with your designer. You likely could email your designer if needed, but I was a little surprised that they didn't proactively reach out to me before the design process started. I don't think I was even properly "introduced" to my designer. They basically took my questionnaire and ran with it. If you are unsure on what you want and feel like you need a little more hand-holding from your designer, you might be better off with a different service. Havenly seems a bit more personal because you choose your designer up front based on their design style. I never got to pick my designer with Spacejoy.

Related to the above, the roundtrip time from me making a comment on the design to getting back the revision seemed a little excessive. It wasn't long by any means (typically a day or two), but it just felt like direct communication through email or some kind of real-time messaging system would be more efficient. For the price, however, I totally understand why it's set up this way. The designer can't be dedicated to supporting you in real time since they need to be working on many projects at a time. To navigate this, I made sure to put all my comments in one note to make sure all my feedback got incorporated into the next design so that I wouldn't have to wait for another round of revisions. For little things I still wanted to change after the last revision, I just ignored and didn't even bother adding them to the design (and just made mental notes of what I would change when I actually implemented the design) because I didn't want to have to go through another round of back-and-forth. I also felt bad for my designer. With the design prices being so low, I didn't want to take up even more of their time.
Because there wasn't any real-time or near real-time communication with the designer, I found that the designer simply incorporated my feedback as is in the next revision instead of providing her take on what works best for the space. For example, I asked if she thought the gallery wall would be better over the couch and instead of providing her opinion on whether this was the right choice, she just moved the gallery wall over the couch in the next revision. For some people who just want the designer to design specifically what they ask for, this may not necessarily be a negative thing. In my case, I was hoping to hear the designer's opinion on my choices before they went ahead and made the change.

Some products selected were out of stock or no longer available. I think at least two items I wanted from the design were no longer available (even when the design was first shared with me). I didn't really bother having the designer select new items. It was helpful though to still see these selections featured in the design because at least I knew to just look for something similar to replace it with.
Some questionable design choices. I was a little surprised by some of the design choices. For example, my nursery design featured a plant placed in front of the nightstand (see picture below). This is obviously so impractical. I didn't even mention it to the designer. I just knew in my head that I wouldn't be putting a plant there. As another example, I asked for window treatments on two walls and the curtains selected were different patterns for each wall. This isn't something I've ever seen before. I had the designer adjust the design to use a single curtain pattern.
Second concept seemed like an afterthought. My nursery design package included two concepts. The second concept seemed like not as much thought was put into it. It looked much like the first one with very little differences. Given this, I would probably recommend not bothering getting the upgraded package. Just focus on getting the one good design.
My Personal Experience with Spacejoy
Nursery Before
In my questionnaire I mentioned that I wanted to retain the Hawaii/beach theme that I had already started. They listened to this really well.
Nursery Design
It only took two revisions to get to a design I was happy with. The first draft they gave me was already pretty spot on.
Nursery After
I am overall very happy with the final room. I definitely will be adding plants soon (who knew plants were so expensive?!). What's great is that now that I have my design, I can slowly purchase the products when it makes sense for me to do so based on my budget. There's no rush for me to purchase all of the items at once. I'm also happy that my designer helped me find how to move my existing furniture around to make the most of the small space that we are working with.
Living Room Before
I was very pleased that Spacejoy still considered this one room even though it is a living room-dining room combo. I think technically they will consider anything with four walls one room. Maybe one giant open floor concept lower level would be a stretch though.
Living Room Design
I have not made any purchases for the living room yet. I'm still in the process of trying to sell our dining table in order to swap it out for a smaller one like the one in the design. I am definitely excited about what it will look like once I have some of the key pieces in!
Is Spacejoy worth it?
Despite some of the negative points I listed above, Spacejoy is 100% worth it. You just can't beat the price. My designer featured some really great products in both my living room and nursery designs that I likely would have never come across or tried out myself. For example, I would have never ever bought anything made of rattan, but now I am IN LOVE with the rattan circle shelf she picked out from World Market. I also LOVE the curtains she picked from Crate & Barrel. I spent hours looking for some on my own but ended up just going with her selection because it really was the best one out there for our space.
I will say that if you'd rather work really closely with your designer, you might be better off with a more "full-service" online interior design service like Havenly designs.
Overall, Spacejoy is a great way to start doing some basic interior decorating for your home. As long as you have reasonable expectations given the price point, this will be a great experience. Even if you don't end up buying many of the products they feature in your designs, the low price of the design packages makes this whole experience a convenient way for you to see the potential of your space. Your designer can even help you find ways to optimize your space using your existing furniture.
If you decide you'd like to try out Spacejoy you can use this link to get 25% off your design package. Use the code MELI25 at checkout.
I hope this Spacejoy review was helpful! Please reach out if you have any questions at all!
(Visited 9,487 times, 1 visits today)