I'm obsessed with diaper bags. That sounds so silly to say, but it's true. I've always been a bag and backpack lover and once I became a mom, this obsession quickly carried over to diaper bags, especially diaper bag backpacks. In this post I'll share some of the diaper bags that didn't work out for me and then let you know exactly why the Caraa Diaper Baby Bag is the best diaper bag out there.
Diaper Bags I Didn't Like
Over the past three years, I have tried at least 10 diaper bag brands and styles. Here are just some of the ones I tried but didn't end up loving:
Louis Vuitton Mini Lin Diaper Bag: This was the first diaper bag I ever bought. I love the Mini Lin pattern (I have the Speedy 30 in it) so I really wanted this. I got it second hand off of eBay since it's no longer being sold in stores (I also don't think I would have paid retail anyway). Unfortunately, I used this maybe three times before realizing it's just not functional. It's just too heavy and can only be worn on the shoulder, which doesn't help make the already heavy bag easy to carry. It's super pretty though, so I'm still holding on to it!
Ju Ju Be BFF: This convertible backpack seemed like the ultimate bag for me. It can be worn as a shoulder bag, cross-body, or as a backpack. It has a nice opening that makes it easy to grab what you're looking for. The issues I ran into though were that it was heavy and not spacious enough. It also felt awkward on my back because of its triangular shape. I really tried to love this bag and used it multiple times but ultimately just knew it wasn't working for me in the end. This could maybe work out for you if you pack really light.
Dagne Dover Indi Diaper Backpack: Both my husband and I got one of these. We loved the neoprene fabric. This bag is surprisingly heavy though. Also, the front pocket is pretty useless since it's flat and the two zippers connect to the same pocket! Thought that was pretty silly. Overall I didn't feel like there were great organizational features to the bag–the main compartment always ended up feeling like a bottomless pit. My husband and I both sold ours within a month of owning them.
Why the Caraa Diaper Baby Bag is the Best Diaper Bag Backpack
The bag I have been using for the last year is the Caraa Diaper Baby Bag in the Large size. Here are five reasons why it's the best diaper bag you'll find:
1. It's SO lightweight.
In my list above of diaper bags I didn't like you'll notice I mentioned that all of the bags were heavy. When I was a new mom I didn't think this would really be an issue, but after having two kids, I now know that a lightweight diaper bag is an absolute must. When you find yourself wanting to constantly just leave your diaper bag in the car because you don't want to lug it around, it's probably because your diaper bag is too heavy. The Caraa backpack is SO LIGHTWEIGHT.
2. It keeps you hands-free.
I have learned the hard way that the only functional diaper bag style is backpack style. Backpacks keep you hands-free and they don't slip off your shoulder like a tote bag might. As an added bonus, the Caraa Diaper Bag also has a removable shoulder strap for times when you're just quickly grabbing your bag and are maybe taking things in and out frequently and don't want to go through putting on both backpack straps. You can also tuck in your backpack straps when you're using the shoulder strap. I was super thankful to use the bag's passthrough sleeve on our trip to Disneyland so that I could just slip the backpack onto my wheeled carry-on luggage.
3. It has so many pockets.
Diaper bag organization is so crucial. When your hands are full, you do not want to be spending time shuffling through your bag to find what you need. The Caraa diaper bag has so many great functional pockets to help you stay organized. Here is a rundown of the organization features of the bag:
Top, quick access pocket: I use this to stash all of my mommy needs, like my keys and wallet.
Wide, front insulated pocket: I use this for my diaper clutch. See my diaper bag essentials post for why this is so crucial. This pocket also has two elastic bottle pockets towards the back.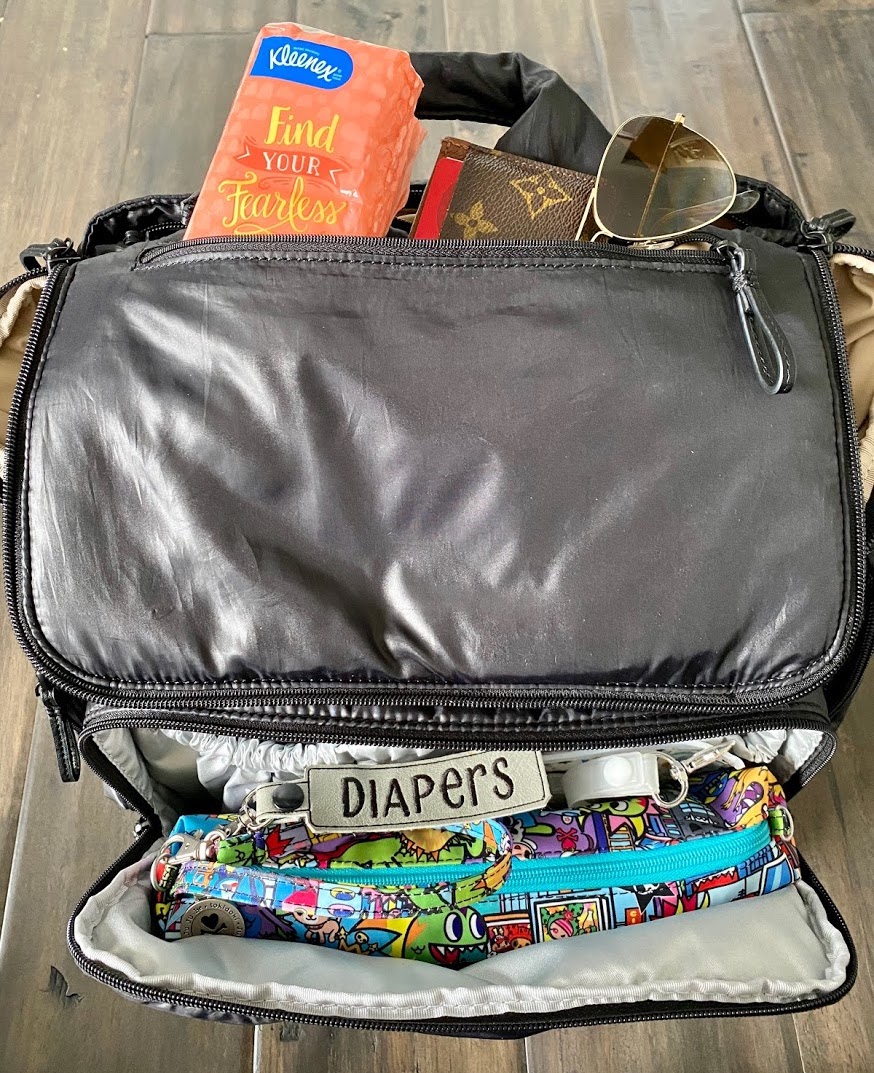 Back pocket: I use this for other quick access items, like a burp cloth and my daughter's iPad mini. This pocket can fit up to a 13″ laptop.
Outer magnetic bottle pockets on each side: These are large enough to hold a 32 oz. water bottle, so I love these pockets.
Zippered, insulated side pockets on each side: These are great for bottles and snacks.
Main compartment

Two clear front pockets
One pocket with elastic band towards the back
Two clear side pockets

Removable insert with four pockets: This insert is great because it gives you instant organization with its label windows. I have mine labeled with my daughters' names and then I have one pocket for me and another for miscellaneous, shared items like sunblock.
4. It's durable and high quality.
I had this diaper bag packed to the brim on our trip to Disneyland six months ago. It never showed any signs of wear. The straps and zippers are all super sturdy.
5. It's stylish for both men and women.
I love how the bag looks and I love that my husband will also proudly wear this backpack. I like the simple yet luxurious look of the bag. This backpack doesn't scream diaper bag, so I've even used this as a work bag. This was nice because it meant that if I picked up my daughter from preschool straight from work I already had everything I needed for an impromptu adventure (usually to Target, let's face it).
Downsides to the Caraa Diaper Baby Bag
The only really nit-picky things I would mention about the Caraa Diaper Bag are:
Too many insulated pockets — This is a silly thing to mention though really. Obviously I could use the insulated pockets as regular pockets, but somehow I feel a little weird keeping a pair of socks, for example, in the insulated pockets that in my head are meant for food items. But again, that's just me being weird.
The top pocket for stashing the backpack straps always stays open. Again, this is a super nit-picky and really a non-issue for normal people. I just think it looks a tad messy that this zipper has to stay open when you have the backpack straps out, which is like 99% of the time.
The straps aren't very padded. This isn't a huge deal for me because the bag is so lightweight that it doesn't bother me that much, but it is worth mentioning.
It's a little tough to open the backpack's main compartment while it's on your shoulder. Because of the way the bag opens up (it has a U-shaped opening), I find that I often need to set the bag down in order to grab something out of the main compartment as opposed to being able to swing the backpack around to my front and open the zipper quickly.
Overall, this Caraa Diaper Bag Backpack is one of my top mom product recommendations. After three years and thousands of dollars wasted, I've finally found my unicorn diaper bag that meets all of my needs. $295 is a lot (about $250 if you use this link) to pay for a diaper bag, but you're actually saving money by buying this single bag that will last you for years and years as opposed to wasting your time and money like I did trying out a bunch of bags that will end up not working out or that won't last you long.
Use this code for 15% off at Caraa! There is even a new medium-sized version that would be great for light packers or moms with older kids, for example.
Please also check out my post on how to pack the perfect diaper bag here!
(Visited 8,635 times, 1 visits today)